Regular price
Sale price
$199.50
Unit price
per
Sale
Sold out
Share
View full details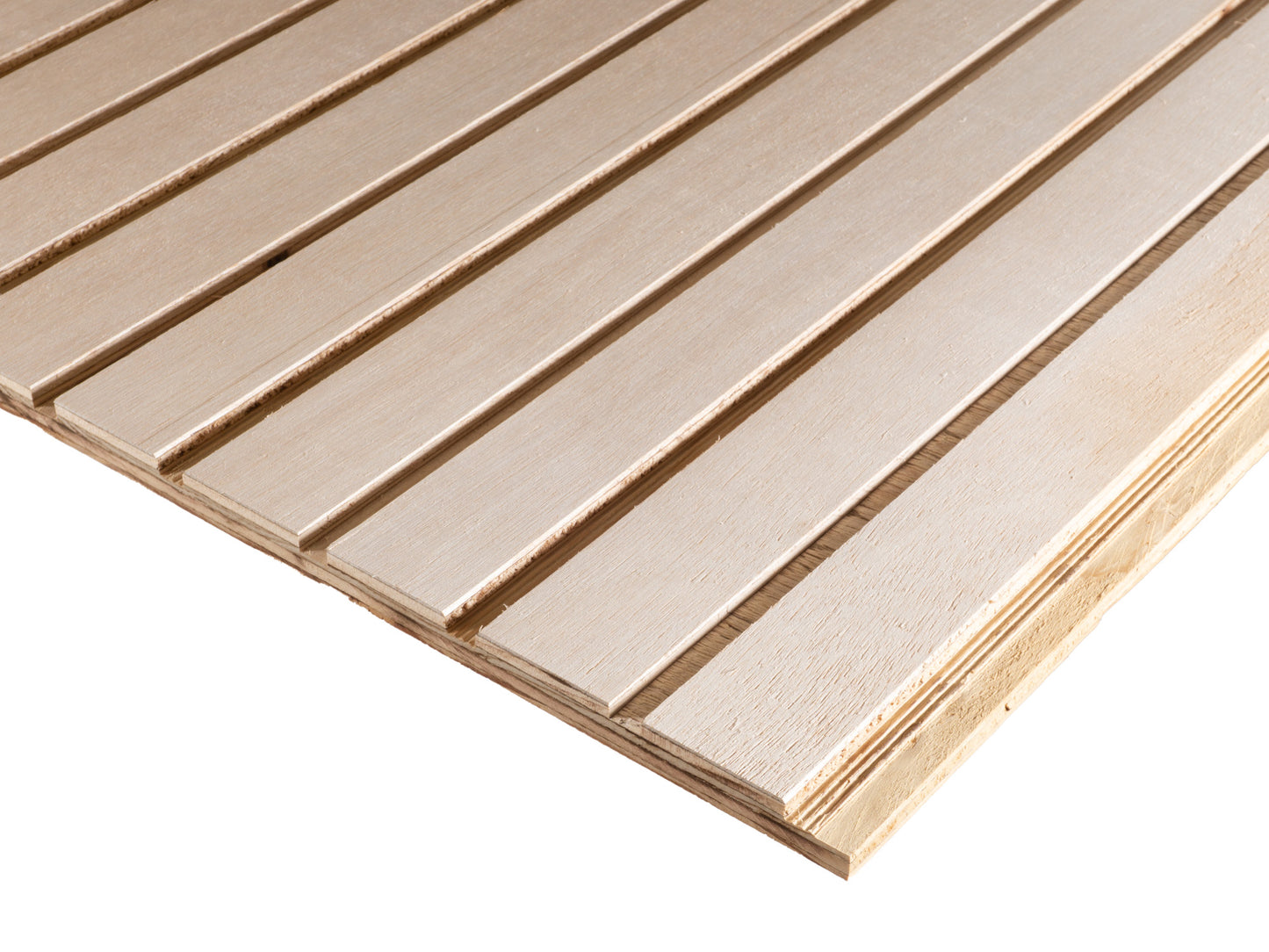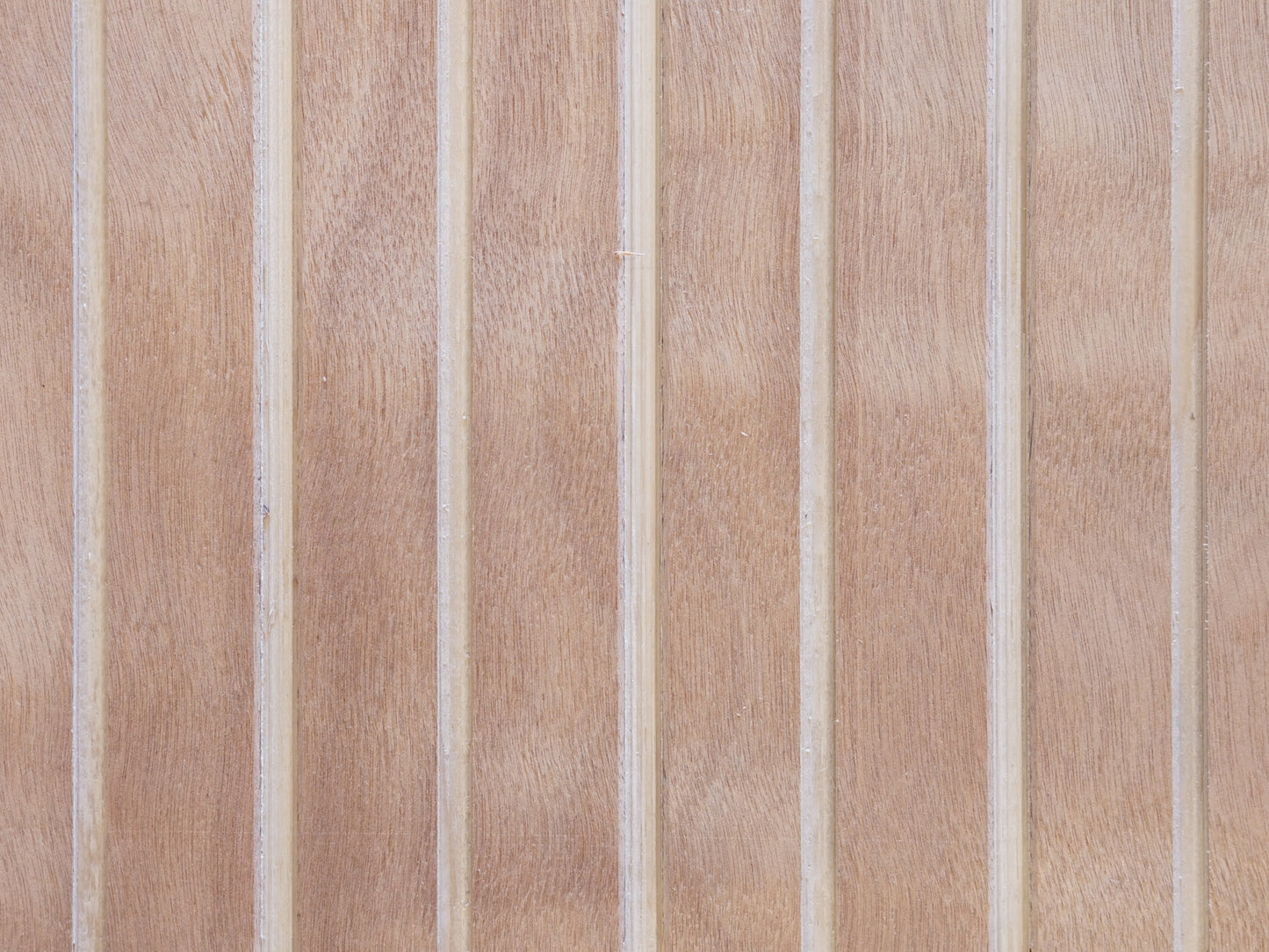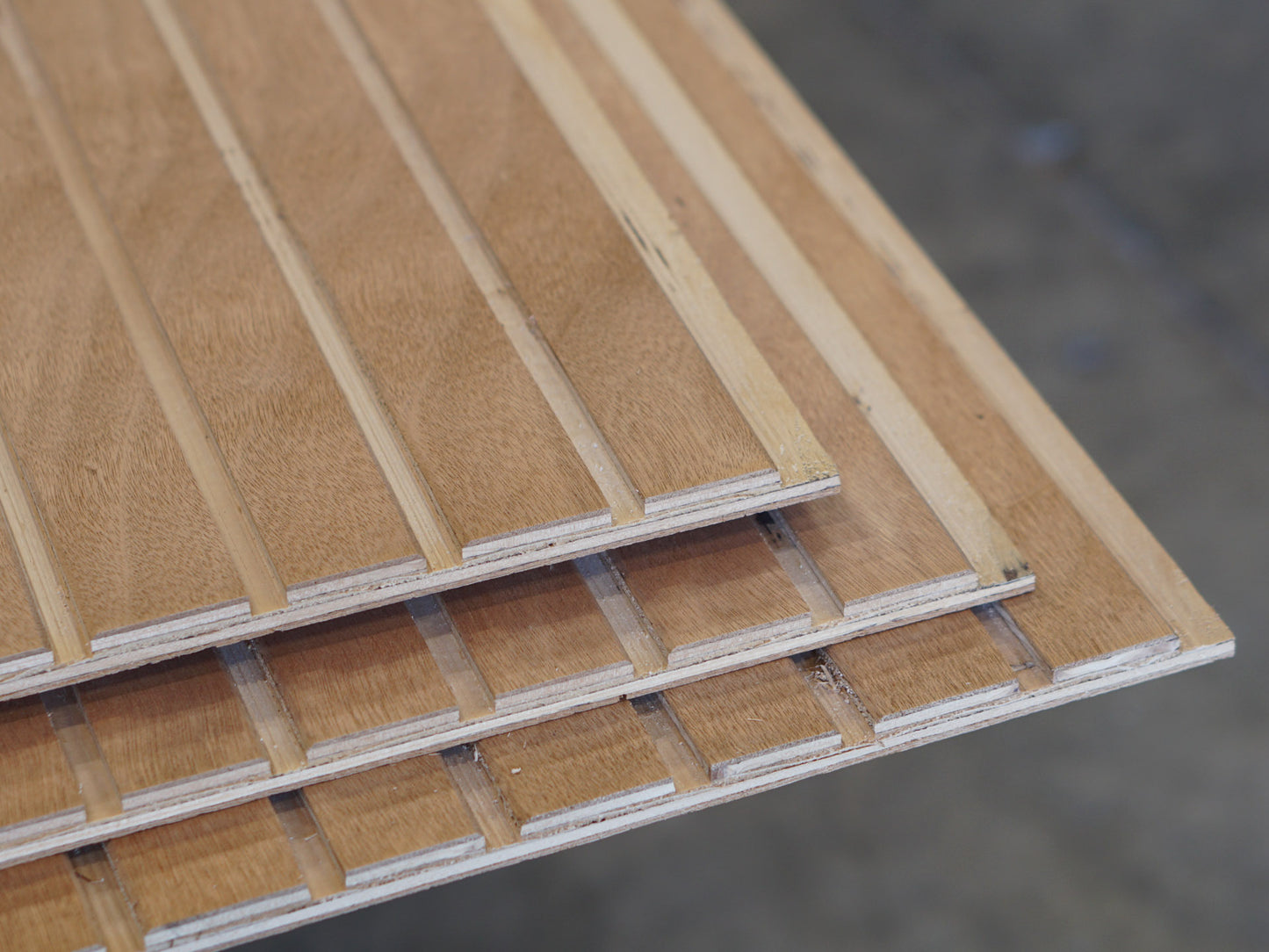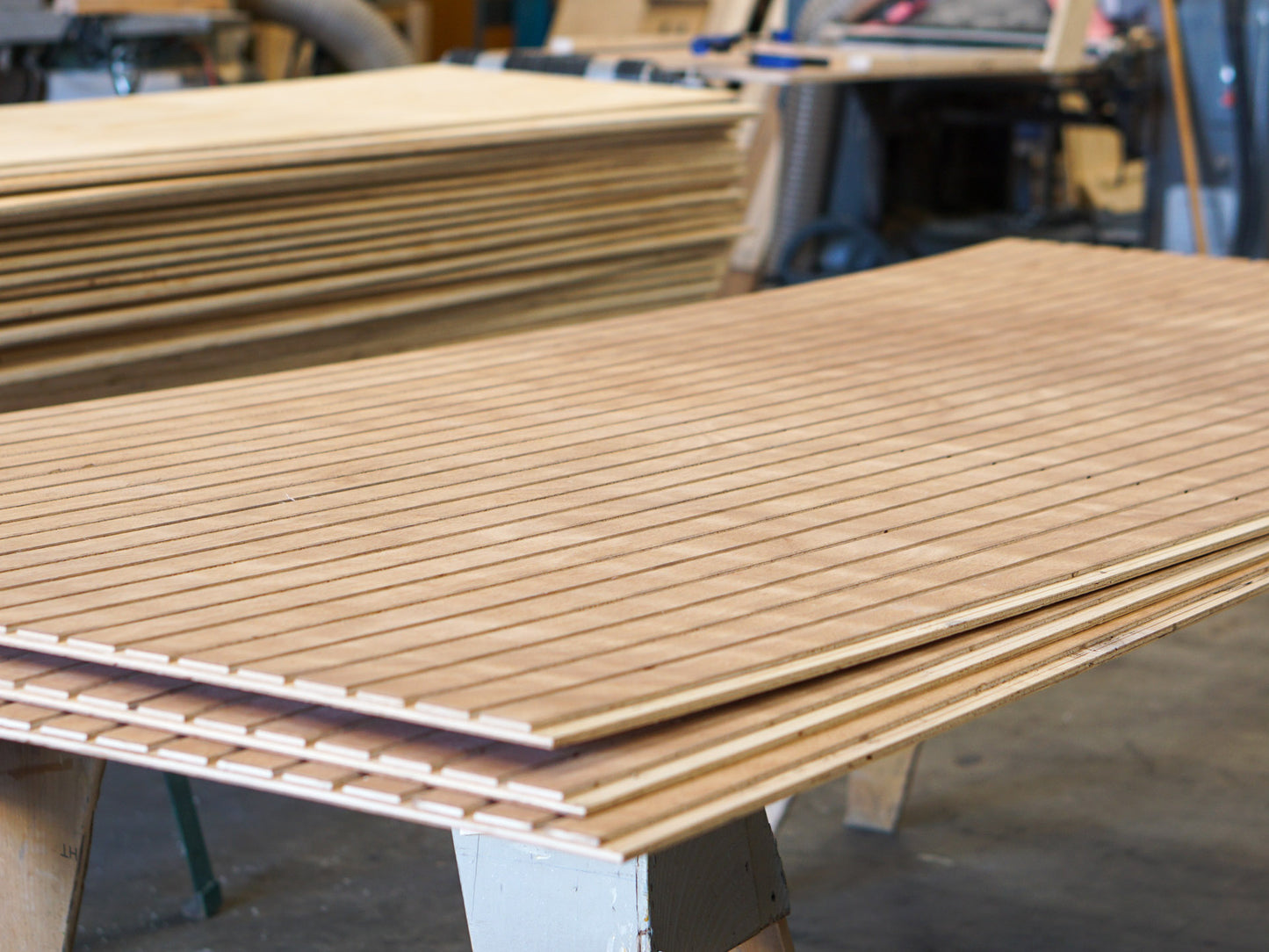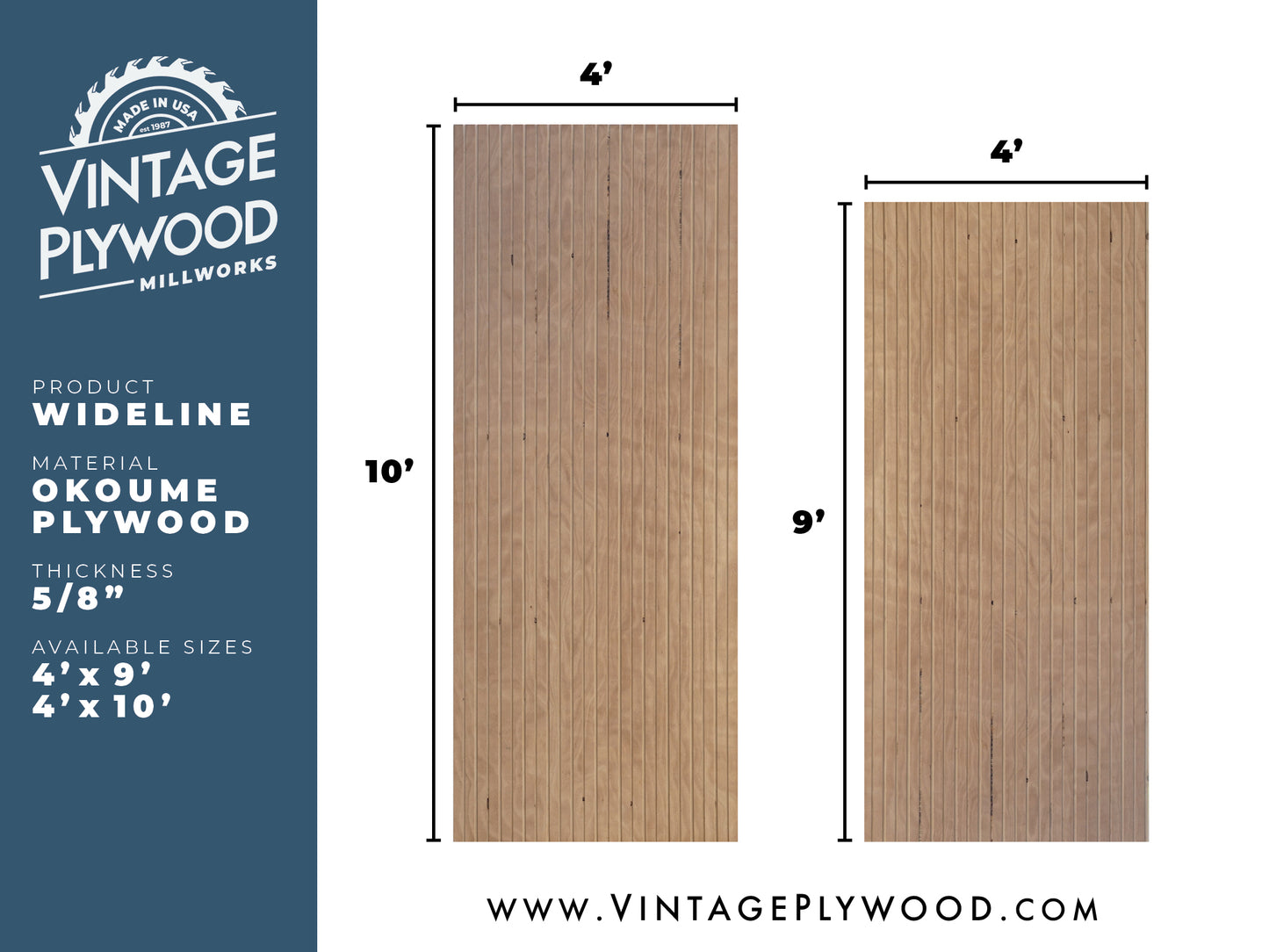 Pattern

3/8" groove, 2" on center
Available Sizes

5/8in x 4ft x 9ft
5/8in x 4ft x 10ft
About Wideline • Plywood Siding
As the name suggests, our Wideline pattern consists of wide grooves that run the length of the sheet. Much like its cousin Thinline, Wideline plywood was made popular by the famous mid-century modern architect Joseph Eichler who used it widely on his homes. As it gained popularity for its modern look, the patterned plywood has been used by other mid-century modern architects and designers ever since the 1950s.

During the mid-century, Wideline was primarily applied as exterior siding, which is how it is typically used today.

Our Wideline is milled on plywood with a smooth-sanded Okoume wood veneer, which is similar to mahogany in appearance. Due to its natural rot-resistant characteristics, Okoume is an excellent choice for exterior applications. The texture is also a very close match to the texture and appearance of the original plywood used in the mid-century, so if you are replacing deteriorated siding, it will be a great match.

Take notice of the beautiful grain pattern of Okoume. When paired with the grooved pattern, we think our Wideline plywood is pure vintage, retro magic!

COMMON APPLICATIONS:

Exterior siding


AVAILABLE SIZES:

5/8in x 4ft x 9ft
5/8in x 4ft x 10ft


PATTERN: 3/8" groove, 2" on center
MATERIAL: Okoume Veneer Plywood
THICKNESS: 5/8" only
EDGE: Shiplap
FINISH: Raw wood, Paint-grade

PRODUCT NOTES: Due to the milling process, there is a slight difference between every other groove. Half the grooves have a squared, flat bottom while the other half have a slight rounded-over, veined bottom. This difference goes unnoticed by most, especially when painted.

This product is considered paint-grade. If you choose to apply a stain and/or clear-coat, please understand there may be voids inside some of the grooves.
Returns & Refunds
We take great joy in manufacturing our unique patterned wood products, so we always want to make sure our customers are extremely happy with their purchase.
However, as a small family owned and operated business, we do not have the capability of accepting any and all returns like most major "big-box" stores.
Please double check your order confirmation to ensure you have ordered the correct product with the correct dimensions for your project. For more information, see our Shipping & Return Policy.